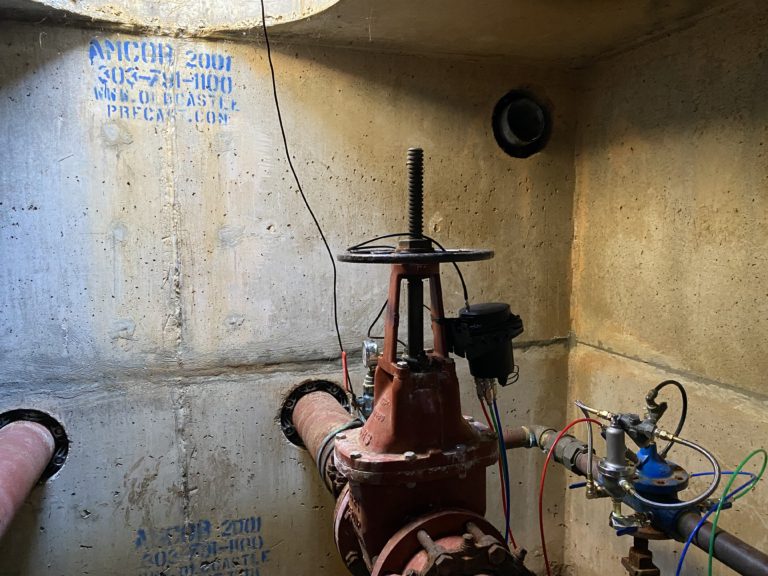 Rock on, i2O loggers!
i2O loggers help Castle Rock, CO meet their strategic objectives.
Castle Rock is a home rule town that is the county seat and the most populous municipality of Douglas County, Colorado, United States. The town population is around 75,000.
The town's water is supplied by Castle Rock Water.  They're proud of their long history and customer service.  They have won multiple awards including most recently Outstanding Water Treatment Plant – 2021 by the American Water Works Association.
Castle Rock Water's 5 year plan has the following strategies:
Ensure long-term water
Support, engage and inspire our team
Enhance customer satisfaction
Maintain financial sustainability
Optimize infrastructure
Demonstrate industry leadership
In pursuit of these, Castle Rock has started installing i2O loggers on its PRVs.  They're the first in Colorado to deploy the technology.  They will use the pressure data from the loggers to better understand network performance, PRV condition, and opportunities to control pressures more tightly to minimal viable levels in order to provide improved customer satisfaction, make the most of existing infrastructure, and demonstrate industry leadership.
Ryan Livingston, Water Distribution System Supervisor at Castle Rock Water, said: "We are excited for the opportunity to integrate the i2O pressure loggers and corresponding technologies along with the software platforms to assist us in the monitoring of our numerous PRVs. The ability to monitor our PRVs remotely is invaluable. It allows us to better troubleshoot problems with the valve as well as monitor the valve's response or lack thereof during pressure events.  I am grateful for the support from our Leadership Team to add this tool to our arsenal as I feel it supports our goal to continue to be a national leader in the water industry and to continue provide exceptional service to our customers."