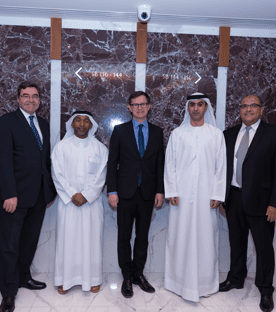 i2O global expansion continues with opening of first Middle East facility located in Dubai, UAE
i2O, the smart water network solutions company, has announced that it has opened an office in Dubai, United Arab Emirates (UAE), to provide support to its clients located in the Middle East and North Africa.
Dubai is i2O's first office in the Middle East and increases its global footprint, which already includes the headquarters in Southampton, UK, as well as regional offices in Spain, Colombia and Malaysia.
In the last 10 years, i2O's smart water network solutions have been installed by more than 100 water utilities worldwide to reduce leakage, bursts, energy consumption and operating costs, extend asset life and improve customer service. i2O works with many water utilities in the Middle East and North Africa already, including Saudi's National Water Company and Lebanese water authority EBML.
i2O's operations in the Middle East and North Africa are headed by Mohamed Sadek, formerly of Xylem Inc. and Veolia Water, who joined i2O in June 2017 as its regional sales director.
Joel Hagan, CEO of i2O, comments: 'Almost half of the world's most water-stressed countries are located in the Middle East and North Africa, and so it makes absolute sense for us to open an office there. The challenges of ensuring a good clean water supply are exacerbated by more frequent heatwaves, population growth and urbanisation. i2O is helping to improve the situation in the Middle East and North Africa via pioneering applications of smart water network solutions. I am delighted that we now have a permanent presence in the region.'