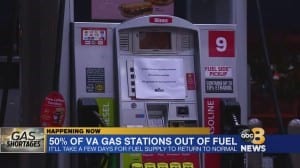 USA requires improvements to cyber-security
Following the Solarwinds hack and ransomware attack on Colonial Pipeline, US President Joe Biden has signed an Executive Order to improve US cyber-defences in light of recent attacks.
There will now be detailed requirements for all government departments to tighten security in a defined timeframe.
Colonial operates a 5,000 mile (8,000km) pipeline that supplies 45% of the petrol and jet-fuel needs of the east coast of the US.  It is critical national infrastructure.
The executive order requires all government departments to:
Adopt MFA (multi-factor identification) log-in systems within 180 days
Accelerate moves to "cloud" and "zero trust" frameworks
Designate which "unclassified data" is too sensitive to be kept in normal networks storage
Conduct more thorough reviews of critical-software suppliers
It also strongly encourages private cyber-security companies to improve their own defences and be more transparent about when they themselves are attacked.  Cyber-security vendors will have to report intrusions within 72 hours of discovery.
Expect similar requirements to become the norm for all critical national infrastructure.
i2O already offers a cloud-based service from security-screened employees with data encrypted at rest and in transit, to which access is protected by MFA, with ISO27001 certification since June 2018 – intelligent network solutions and peace of mind.