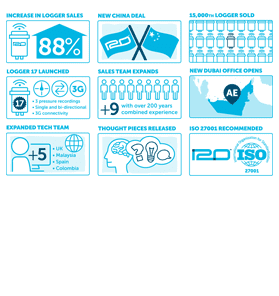 Sales expansion and the year of the logger – i2O's 2017 in review
2017 has been the year of the logger at i2O as water utilities around the world monitor and report on network performance increasingly. We've seen demand for i2O loggers soar amongst our clients, and this has not been at the expense of other areas of our business. 
Demand for our wider range of smart network solutions, and our Advanced Pressure Management solution oNet, in particular, has been more than healthy. Water utilities continue to invest in optimising operations and making their networks smarter to meet the challenges of population growth, urbanisation, extreme weather events, creaking infrastructure, ageing workforces and more demanding customers.
Logger sales take off!
Water utilities around the world took huge steps forward in the adoption of smart network solutions in 2017, investing heavily in loggers to provide data. Logger sales at i2O almost doubled year-on-year, in large part thanks to our deal to provide 4,000 dNet loggers to South West Water. These are now being installed across its network to underpin its network optimisation initiatives and provide detailed data relating to water demand, flow, pressure, asset condition and transients.
We signed a major agreement in China to supply loggers to GDH Water, part of Guangdong Investment Limited, China's second largest water treatment company. As well as being our first deal in the country, we have agreed to work on a wider collaboration to make our smart network solutions available to water companies across China.
We also won a contract to provide Mei Carmel, an Israeli water utility, with data loggers and our iNet visualisation solution to improve the performance of its distribution network and reduce non-revenue water levels in the city of Haifa.
All this demand meant we shipped our 15,000th data logger in 2017. This was built by i2O engineers at our state-of-the-art assembly facility in Woolston, Southampton, and shipped to Chile in a batch of loggers that will be used to monitor water pressure and flow in one of the country's large urban water networks.
Finally, we finished the year of the logger by starting production of our next-generation smart data logger known as Logger 17. Logger 17 allows up to three pressure readings to be recorded at a single time and measures both single and bi-directional flow. It is the first i2O logger to provide 3G connectivity, improving battery performance and allowing the device to be used securely in a wider range of locations.
Expanding i2O's salesforce in new and existing territories
2017 was a year of significant recruitment at i2O. The main focus of which was expanding i2O's salesforce in both new and existing territories. i2O tripled the size of its sales team this year, adding 9 new members with more than 200 years of combined experience in the water industry to the team. We were delighted to welcome Pini Sagi, Silvia King, Mark Loveday, Patricio Orozco, Enrique Torres, Roberto Giangreco, Razim Malek, Freddie Cheung and Mohamed Sadek to i2O. We also opened an office in Dubai to support our clients located in the Middle East and North Africa.
Beyond sales, we also increased the size and scope of i2O's technical support team, expanding the operation from 2 to 7 people located in the UK, Malaysia, Spain and Colombia. We now have technical people in all of the regions where we operate directly and can support water company clients anywhere in the world around the clock during office hours.
Securing i2O's position as a leading provider of smart water networks
i2O has spent a significant amount of time this year creating and curating a series of thought pieces on smart water networks and the future of the water industry. We've explored areas such as real-time data, communications protocols for loggers and how continuous condition monitoring is set to become the mainstay of maintenance in water networks. If you've missed any of our thought pieces you can download our end of year playbook here. Do let us know if you would like to propose a piece or a topic for discussion.
We were also audited and recommended for the ISO27001 accreditation this year, a framework of policies and procedures relating to information security management. Very few organisations in our sector have achieved this; being recommended for it demonstrates that we have all of the legal, physical and technical controls in place to deliver the very highest information security standards.
Well over 100 utilities in more than 30 countries now use i2O solutions to extend the lifespan of their existing network assets, reduce operational costs and improve customer service. We are delighted with the progress our people have made this year helping water utilities address the major challenges they face, and look forward to driving this mission forward even faster in 2018.